Iceland is the perfect place for road trips and the government makes this easy to plan with their national routes. Some of them are signposted to help you along your way while others are less formal but no less of an adventure. Before any road trip you need to plan your route and this is no less the case in Iceland with these routes. They will help you plan your itinerary and decide on the hire car you need but you still need to do the logistics and research of where you actually want to visit.
This article contains links to products and services that I think you will find useful. I may earn commission on any purchases you make at no cost to you. Read more HERE
The national routes below will take you around Iceland in style seeing hidden corners and wide vistas. Give yourself time to explore them completely.
READ MORE: HOW TO PLAN A SUMMER ROAD TRIP TO ICELAND
Ring Road 1
Start Point : Reykjavík
End Point: Reykjavík
Distance: 1300km
Time Needed: 7 days minimum
Suggested Tour: 12 days driving the ring road in winter – mad, probably, memorable – yes!
This isn't really a national route but many people explore Iceland following the ring road. It covers the whole of Iceland and stretches for 800 miles. In theory it can be driven in 24 hours but other than being madness this plan will not allow you to explore. Take your time to explore this route and spread the journey out over at least 7 days to really appreciate the stops along the way.
You can pick the road up in Reykjavík and then follow it in either direction until you come back to the city. It is paved as opposed to gravel for most of the route and you can make good progress but do be sure to stick to the speed limit.
Golden Circle
Start Point: Reykjavík
End Point: Reykjavík
Distance: 300km
Time Needed: Can be completed in a day but three days is far better
Suggested Tour: A beautiful nature tour around the Golden Circle
The Golden Circle is the most travelled of all the routes in Iceland. It's proximity to Reykjavík and the iconic landmarks along its route make it a busy adventure and a nightmare to photograph in a day. However, taking your time or driving it anti-clockwise in the opposite direction to the tour buses makes the experience a whole lot more enjoyable. In the summer months visiting the landmarks later in the day or early in the morning mean you can be alone for much of the time. The golden circle includes Gullfoss, the geysers at Haukadalur and Þingvellir National Park.
Snæsfellsnes Peninsula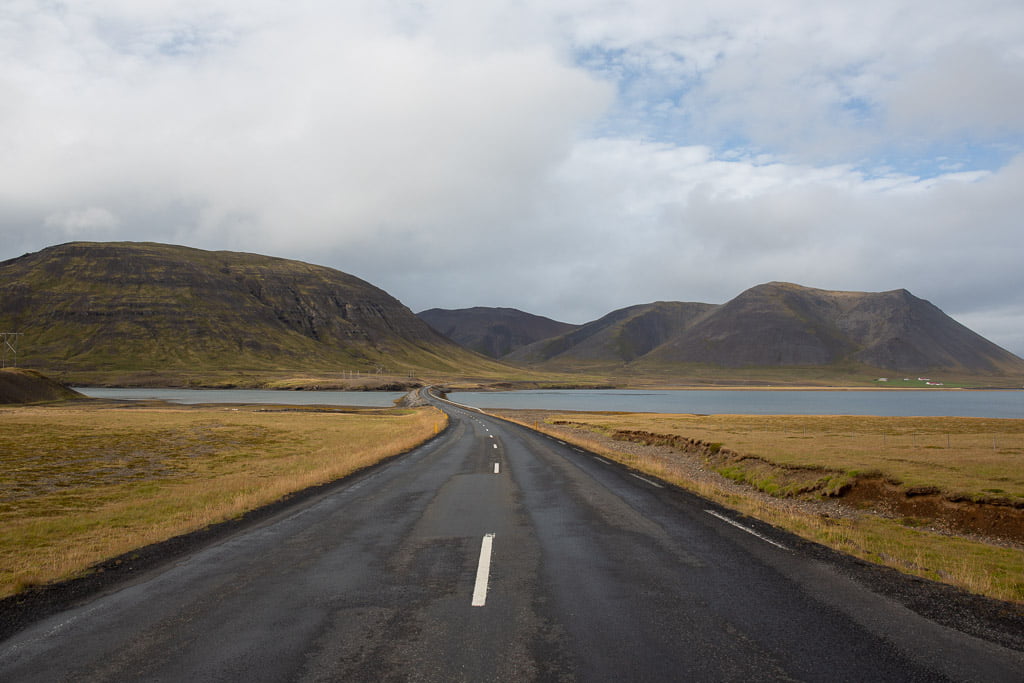 Start Point: Stykkishólmur
End Point: Borgarnes
Distance: 230km
Time Needed: Very long day trip from Reykjavík but more than enough to fill a few days
Suggested Tour: A magical mystery tour of the peninsula
The Snæsfellsnes Peninsula has a little bit of everything from black beaches to volcanoes and glaciers. There are lots of places to get away from the crowds and as with the other routes if you decided to explore over a number of days you can get some of the iconic landmarks to yourself. The roads are variable from tarmac to gravel but none need 4WD if you are sensible. The Snæsfellsnes Peninsula includes Kirkjufell Mountain, the lovely port of Stykkishólmur, hot springs at Landbrotalaug, Lóndrangar basalt cliffs, Snæfellsjökull glacier as well a number of lighthouses.
Reykjanes Peninsula
Start Point: Vogar
End Point: Vogar
Distance: 150km
Time Needed: A really comfortable day of exploring
Suggested Tour: A quick 4 days in Iceland with time to explore the Reykjanes Peninsula
The Reykjanes Peninsula was one of our favourite areas in the whole of Iceland and is often overlooked with visitors never getting beyond the airport and the Blue Lagoon which are both on the this route. It is fairly quiet despite its proximity to Reykjavík and has some great geothermal areas to explore as well as lighthouses, small churches, the really interesting Viking Museum and bird cliffs. This small area can easily fill a day with minimal driving and lots of variety. If you are wanting to complete this as a loop, ignore what the map appears to show. There is a good road that runs behind the airport between Sandgerði and Hafnir.
READ MORE: EXPLORING THE REYKJANES PENINSULA
South Coast
Start Point: Reykjavík
End Point: Jökulsárlon Glacier Lagoon
Distance: 375km one way
Time Needed: At least 3 days including return to Reykjavík
Suggested Tour: A six day tour along the south coast with lots of amazing stops.
The south coast of Iceland stretches from Reykjavík to Jökulsárlon Glacier Lagoon in the east of Iceland. It includes some of the Golden Circle before heading east towards Vík. At Vík you can see the spectacular rock formations of Dyrholaey and Reynisdrangar and the long black sand beach before exploring the Skaftafell National Park. Jökulsárlon Glacier Lagoon is the end of this drive where you can see the beautiful diamond beach as well as the spectacular glaciers and lava fields. The roads along this route are busy until you leave the Golden Circle. However, once you are past this area the roads open out and are a joy to drive and good all the way to Vík. You do need to keep an eye on the weather as the wide open landscape is prone to being buffeted by high winds and in the winter months can be affected by snow storms.
East Iceland
Start Point: Höfn
End Point: Borgarfjörður Eystri
Distance: 330km
Time Needed: 2 days including stops
Suggested Tour: there are not many tours to the East Fjords, but include it in a longer tour of the country.
This is one of the quietest areas in Iceland and the furthest from Reykjavík but is definitely worth exploring. After the intensity of the glaciers and lava fields, the deep fjords and open skies are a complete change. Following the roads down the fjords can lead to unexpected surprises and these detours are worth adding in to your plans. As with other areas in Iceland there are microbreweries and hot tubs to explore. This route begins just past Höfn at Vestrahorn Mountain and ends at Borgarfjörður Eystri where you can find one of the larger puffin colonies in Iceland during the summer months. Once you leave Ring Road 1 the roads are variable and need 4WD in places. They will jump from gravel to tarmac and back again numerous times on short stretches.
Dreki And Askja Viti On F905/F910
Start Point: Egilsstaðir
End Point: Möðrudalur
Distance: 270km
Time Needed: Can be done in a day from Egilsstaðir or Reykjahlíð but two days much better
Suggested Tour: Off road trip to Askja and Askja Viti
The route to Askja and Askja Viti takes the F905 and F910 across lava fields. It is variable from hard lava pillows to ash as well as river crossings. It can only be attempted in a 4WD and although it can be done in a day, a night at the hostel and campsite at Dreki makes the drive much easier and more enjoyable. The road is not open in the winter months and if the rivers are in flood then it is not possible to cross so the access should be checked before setting out. Askja Viti is a blast crater which is now a warm water swimming pool when conditions are favourable.
READ MORE: DRIVING THE F905 AND F910 IN ICELAND
Arctic Coast Way
Start Point: Vopnafjörður
End Point: Hvammstangi
Distance: 730km
Time Needed: At least 4 days plus time to get to and from the start and finish
Suggested Tour: Another area where tours are limited but this 15 day package gives time to explore the north coast
This route is an amazing way to explore the more remote areas of Iceland. It follows the north coast of Iceland along the lesser visited peninsulas. There is everything for wildlife watchers from seals near Hvammstangi to whale watching in Húsavík as well as a number of small museums and towns. Driving this route needs planning as there are limited options for accommodation although it passes close to the busier Diamond Route and through the northern city of Akureyri. The roads are mainly rough track and whilst they can be driven in a 2WD it is much easier and more enjoyable in a 4WD. In the winter months this route is limited depending on the weather conditions.
READ MORE: DRIVING THE ARCTIC COAST WAY IN SUMMER
Diamond Circle
Start Point: Akureyri
End Point: Húsavík
Distance: 260km
Time Needed: Two days as a minimum
Suggested Tour: A quick trip with a flight from Reykjavík included
The Diamond Circle is the northern version of the Golden Circle and can be started in Akureyri. The route includes Goðafoss and Dettifoss, two huge waterfalls that are essential visits in this part of Iceland. It also includes the weird pseudocraters and lava fields around Lake Mývatn, the steaming landscape of Hverarönd Geothermal Area and the horseshoe shaped landscape at Ásbyrgi. From Ásbyrgi it is a short drive to the fishing town of Húsavík with its geothermal pools and whale watching tours. The roads on this route are mainly good and much quieter than in the south of the country. As with anywhere the roads can be affected by the weather so always check before setting out each day.
Westfjords
Start Point: Hólmavík
End Point: Reykhólar (for the ferry back to the Snæsfellsnes Peninsula)
Distance: 650km
Time Needed: At least three days plus time to travel from Reykjavík or Akureyri
Suggested Tour: An amazing tour that takes you to small islands and remote corners of Iceland
This is one of more remote regions of Iceland but definitely worth visiting. The weather is more unpredictable up here and having alternative plans and routes if the fog comes down or the weather closes in is definitely needed. Even in the height of summer it can feel like winter. The roads in this area are rough with a number of mountain passes and tunnels and intermittent gravel tracks. You do need to check access all year round in this area. Despite the weather conditions and the roads it is worth exploring. There are the stunning Látrabjarg bird cliffs, the bustling town of Ísafjörður as well as the impressive Dynjandi waterfalls and Garður BA 64 wreck, the oldest steel ship in Iceland.
READ MORE: WESTFJORDS ROAD TRIP
Kjölur Highland Road
Start Point: Gullfoss Waterfall
End Point: Blönduós
Distance: 170km
Time Needed: Two days
Suggested Tour: Another route that has minimal tours, but you can design your own.
The Kjölur or Kjalvegur Road is one of the best ways to explore the Highlands of Iceland. It is a harsh gravel road but is well maintained and accessible for most of the summer months during June, July and August although the weather should be checked before setting out. This route must be driven in a 4WD and even then the smaller 4WD hire vehicles are not ideal. Despite the terrain this route is worth exploring. It will take you from the geysers at Haukadalur and Gullfoss waterfall before heading away from the main roads towards Ásgarður. From here the route visits the geothermal areas at Hveradalir and Kerlingafjöll before meeting up with Ring Road 1 near Blönduós.
READ MORE: EXPLORING THE HIGHLANDS OF ICELAND
MAIN IMAGE: Pixabay \ Free-Photos