Iceland's glacial ice caves are a natural work of art and their transient nature means that every visit even over extended periods of time will be different.
The caves are formed by subglacial water channels that flow through and under the countries glaciers. In the warmer summer months the rain and surface meltwater will cause some ice caves to collapse and new areas to form which are revealed as the glaciers retreat.
Visiting an ice cave is one of the most memorable experiences in Iceland that you may have but choosing the right tour and cave to visit can leave you confused. This guide shows you 5 different ice caves you can visit to help you find the right one for your trip.
This article contains links to products and services that I think you will find useful. I may earn commission on any purchases you make at no cost to you. Read more HERE
Breidamerkurjökull Glacier Crystal Ice Cave
These ice caves have high 'ceilings' and are probably the best known of all the ice caves in Iceland. These caves can only be visited during the winter months, but there is a choice of tour depending on the amount of time you have available to explore.
Most tours start from Jökulsárlón Glacier Lagoon where a superjeep will take you to the entrance of the caves. The caves will change each year as the summer melts form holes and crevasses which freeze during the winter giving amazing details to the walls and roof of the cave.
Book Here: Vatnajökull Glacier: Ice Cave Tour (3 hours)
For a Smaller Group Size Book Here: Crystal Ice Cave Tour from Jökulsárlón Glacier Lagoon (3hours)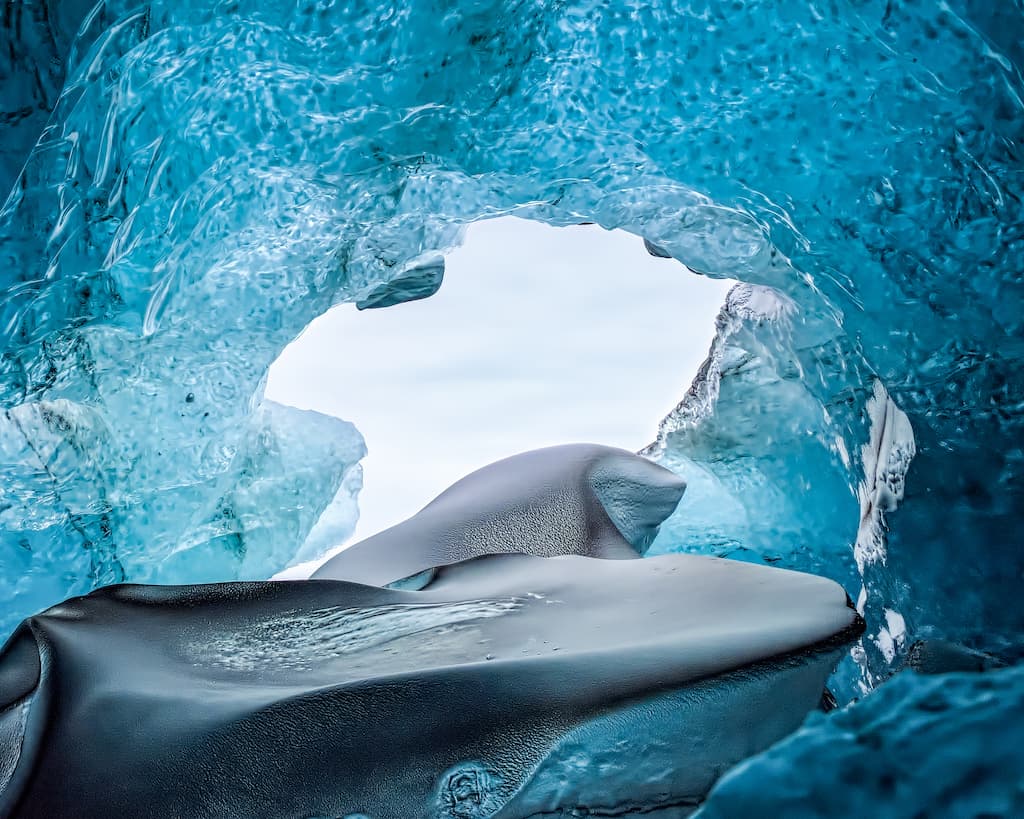 Falljökull Glacier
Falljökull Glacier is another part of the large Vatnajökull icecap. This glacier is also known as the 'Falling Glacier' and this massive icefall is an amazing sight. The glacier glistens in the sunlight with its beautiful blue ice that forms a jagged mound of sculptures and caves.
These tours leave from Skaftafell visitor centre and will take you onto the glacier hiking and entering the blue ice cave.
Purchase tickets here: Skaftafell: Ice Cave Tour & Glacier Hike (4hours)
Book Here for a Small Group Tour: Skaftafell: Extra-Small Group Glacier Hike (3hours)
Kötlujökull (Mýrdalsjökull)
This ice cave is often described as the dragon ice cave because of the darker ice that is found in this glacier. This ice cave is located close to the Katla volcano. It does not have the beautiful light colours of the blue ice caves but is still unique in its own way.
These caves are quieter than the caves further east and are open year round. They can be reached on tours from both Reykjavík and Vík í Mýrdal.
Book Here: Ice Cave by Katla Volcano Super Jeep from Vik (3hours)
If you prefer to travel from Reykjavík then book this tour: From Reykjavik: South Coast and Katla Ice Cave Day Trip (10hours)
Langjökull
Langjökull was built in 2010 and is the largest ice tunnel in the world. Despite Langjökull being man made the adventure getting there more than makes up for its less than natural existence. Into the Glacier (intotheglacier.is) runs bus tours to the western edge of the glacier from Húsafell.
This ice cave can be visited year round and is about 2 hours drive north of Reykjavík.
Book Here: Húsafell: Langjökulll Glacier Ice Cave Tour (3.5hours)
For a bit of adventure, how about a snowmobile trip to the ice cave: From Reykjavik: Hot Spring, Ice Cave & Snowmobile Tour (10hours)
If you don't want to drive, book this tour from Reykjavík: From Reykjavik: Langjökull Glacier Ice Cave Tour (11hours)
Lofthellir Cave
Lofthellir Cave is located east of Mývatn. Lofthellir is a lava tube which is covered in amazing permafrost ice formations. It is completely different to the other ice caves as it is a rock cave covered in ice rather than a cave made of ice. For this reason it can be visited year round.
This cave is a little more difficult to reach with a hike across the lava field and then a short crawl into the cave.
Find out more here: Lofthellir Ice Cave Tour
Things to Consider When Choosing an Ice Cave Tour in Iceland
There are so many companies offering tours that the choice can be quite daunting. You do need to read reviews carefully and look at current reviews rather than those from past years. The ice caves change year to year and only the current reviews are relevant.
Main thing to look for when choosing your tour:
Group size – Do you want to be in a smaller group or are you happy with a large group? Even if you select a smaller group you will probably not be alone in the cave as other groups will be there at the same time.
Tour duration – How long do you have available? Is it a small part of a longer day or is this your main part of the day. Tours range from a couple of hours to an extended day.
Meeting point – Check carefully where the tour starts from. Most start away from Reykjavík so you will need to be in the area or have a way of getting to the start point.
Fitness levels – Read carefully what is involved in the day. If you are unsteady on your feet or dislike exercise then an ice cave and hike is not for you. Some tours will take you in a super jeep to the cave entrance so make sure you choose the most suitable for you.
Other activities – A lot of the tours have a combination of activities. There are so many choices that again it may be too much to think about. If this is the case then it is better to select a tour that is simple and add on extras that suit your plans.
Photography – Not all tours are suitable for photography. If your sole purpose for visiting the ice cave is for photography then make sure your select a tour with this purpose identified. This way you will have the time you need to explore the caves without the guide moving you on to the next location or activity.
Budget – If finances are tight then it may be better to visit one of the more remote locations which are less well known and tend to be slightly cheaper.
Tips for photographing Ice Caves
Keep your camera out while walking to the ice cave. The landscape is stunning and the super jeeps can make for a good foreground.
Take time to explore the cave before starting to take photographs. Your time is limited and you need to figure out what you want to have in an image before you start. As the caves change year to year there is no way to know what you will find when you get there.
A wide angle lens like this 16-35mm lens (see details and prices HERE) is ideal for an ice cave or an ultra-wide angle lens like this 14mm f/2.8 (check prices on Amazon) for the darker caves is ideal. try to include the roof of the cave as this is where the best light textures and patterns can be seen.
On wide angle images including other visitors and photographers will provide a sense of scale and context.
If autofocus is causing problems then focus manually. The light levels and the reflections from the smooth walls can cause problems for your camera.
A tripod is useful. Light levels can be lower than you think and when combined with the slippery surfaces within the cave it is much better to have your camera secured on a tripod. The travel tripod by Three Legged Thing is small and compact and provides good stability (check Amazon prices).
Try to use a narrow aperture somewhere between f/8 and f/11, but don't be afraid to drop to f/4 in a darker area of the cave. By using a narrower aperture a greater depth of field will be achieved.
Keep the ISO between 100 and 400 to reduce noise. Using a tripod will allow you to use a lower ISO.
Shutter speed is less of a consideration as you will be using a tripod. You need to ensure that the highlights and shadows are all exposed correctly using the histogram.
If you are shooting towards the cave entrance you may need to go into bracket mode or the HDR function in your camera. This means that you will have a number of images at different exposures that can be blended together to give a correctly exposed photograph.
While it is good to experiment with torches and lights, the natural beauty of the ice caves is best photographed using the natural ambient light in the cave.
Can I Visit an Ice Cave in Iceland Without a Guide?
The ice caves in Iceland are constantly changing and the only safe way to visit the caves is with a guided trip. Even if you have experience of mountaineering you should join a group. Even in winter months the glacier ice caves can fill with water, melt or collapse and only the local guides have the knowledge to know the conditions on that particular day. You will also need crampons, helmets and axes. These will be provided by the tour leaders and are too bulky and heavy to take on an international flight.
How accessible is an ice cave?
Depending on the time of year and the tour you decide to take, the level of exertion required to enjoy the experience will vary. This will also be determined by how much glacial retreat has occurred. For many glacier tours super jeeps are used to drive onto the glacier itself, getting you as close as possible. There is often a short walk over the terminal moraine or ice to get to the entrance of the cave. If mobility is an issue it is best to talk to the tour company before booking.
Is it possible to visit an Ice Cave on a Day Trip from REykjavík?
In theory it is possible to day trip the ice caves from Reykjavík but it will be a long day and the weather may prevent you from reaching your destination. In good weather the ice caves at Jökulsárlón are a 5 hour drive from Reykjavík. The winter months when they are accessible have very unpredictable weather conditions and limited daylight hours. This means that you will be completing most of the driving in darkness and not seeing the stunning landscapes along the way.
If you want to see an ice cave on a day trip from Reykjavík then book this tour: From Reykjavik: South Coast and Katla Ice Cave Day Trip (10hours)
The best way to visit the ice caves is to rent a car and drive to the area the day before, staying over night either side of your tour. This allows you to make the most of the drive and complete it safely in daylight.
when is the Best time of Year to Visit an Ice Cave in Iceland?
The ice caves in Iceland are best visited between November and March when the weather has had a period of cold temperatures. During these months the caves become stable and it is possible to visit.
Is it possible to visit the Ice Caves in Summer?
In the summer months it is only possible to visit the ice cave on Mýrdalsjökull glacier under the Katla volcano by super jeep, the manmade cave at Langjökull or Lofthellir Cave near Mývatn.